Hello VIPS Enthusiasts!
Back in April we welcomed a brand new website team to VIPS and thought it was about time we introduced them and their exciting research…
Gabriel González, Chelsea Castellar and Andrés Cárdenas are the team behind our website and social media. They're geology undergraduate students at the Universidad del Norte, Colombia, and members of the Scientific Knowledge Applied (SciKap) Research Group. Between them, they share a common interest in exploring the relationships between the magmatic and tectonic environments associated with different sources of hydrothermal fluids and the development of ore deposits.
The SciKap research group is led by Paula Montoya, one of our Focus on VIPS blog editors, and currently consists of a team of 11 undergraduate and postgraduate students. Together they work in collaboration with the Universidad Nacional Autónoma de México and mining industry partners on projects across Colombia, Nicaragua and Mexico. As a part of SciKap, Gabriel, Chelsea and Andrés are specifically focused on the subduction zones in the Americas continent and are working in two main study areas: the Northern Andes in Colombia (Chelsea) and western Mexico (Andrés and Gabriel). 
So, why are Gabriel, Chelsea and Andrés interested in these areas? Gabriel wrote a new piece for our blog to let the VIPS community know!
Northern Andes, Colombia
The tectonic configuration of the Colombian Andes has been the subject of numerous past studies – unsurprisingly so, considering its complex evolution following the initial separation of Pangea back in the Jurassic. The different building stages of continental arcs along the western flank of South America, more specifically in the Colombian area, led to the development of three cordilleran systems – a vast and complex mountain range system – known as the Eastern, Central and Western Cordillera (Figure 1).
The Eastern Cordillera divides Colombia and extends to the northeast towards the neighbouring country of Venezuela. The key mechanism that formed most of these mountainous systems is the subduction of oceanic crust, coupled with igneous intrusions, surface volcanism and the accretion of oceanic allochthonous material (material that has been moved far away from its original site of formation). In other words, the evolution of the Colombian Andes has been anything but typical!
Two types of ore deposits — porphyry Cu-(Au-Mo) and epithermal Au-Ag — are located in the Colombian Andes along six major magmatic belts, which range in ages from Triassic to Neogene (Figure 2). Through understanding the dynamics of the Northern Andes, we can establish a direct relationship between ore deposit geology and tectono-magmatic evolution in Colombia. For example, we can infer that the Jurassic Au-Ag and Cu (Ag) deposits are related to three distinct processes in the cordillera formation: (1) the cooling history of the granitoid magmatism associated with the early rifting and break-up of western Pangea, (2) the separation of the Middle American terranes, and (3) the subduction of Pacific oceanic crust beneath NW South America. Take a look at Table 1 to find out more on the other ore deposits of different ages!
| | | |
| --- | --- | --- |
| Age | Type of Deposit | Related Process |
| Cretaceous | Epithermal Au-Ag, Porphyry Cu-Au and Porphyry Au | Antioquia Batholith |
| Paleogene | Porphyry Cu-(Au-Mo) | Mandé Batholith |
| Neogene | Epithermal and Porphyry | Baudó Terrain |

Table 1. The age, type and related formation of epithermal and porphyry ore deposits found within Colombia's mountainous region.
Western Mexico
Alongside the tectono-magmatic evolution of Colombia's ore deposits, the SciKap group is also particularly interested in the country of Mexico.
Mexico is often considered to be one of the world's most economically and scientifically important countries. It's complex configuration and evolution presents the perfect opportunity to better understand a variety of different geological processes, including the origin and evolution of continents, the formation of Large Igneous Provinces and the genesis of ore deposits.
The convergent margin of western Mexico is an ideal laboratory to explore these dynamic processes. Since the Middle Jurassic, subduction here has been continuous and has shown distinct magmatic episodes, each of which have rapidly changed in composition. Over time, magmatism has moved from that of an essentially mafic island arc, to a mature intermediate to felsic continental crust. Additionally, there has been a migration of the magmatic source. From the late Cretaceous through to the middle Miocene, the continental magmatism has been associated with:
A normal supra-subduction magmatic arc producing a dominantly intermediate suite of intrusions and volcanic counterparts;
Volcanism as a product of crustal melting, producing voluminous pulses of silicic ignimbrite eruptions and building one fo the largest silicic volcanic provinces on Earth – the Sierra Madre Occidental (Figure 3).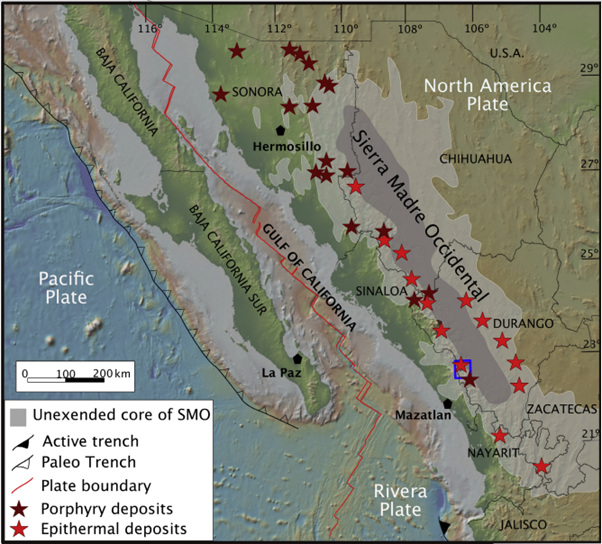 During these magmatic-tectonic events, several types of mineralisation have taken place, forming important porphyry and epithermal deposits. However, a large proportion  of the Sierra Madre Occidental still lacks quality geochronologic information and detailed geologic descriptions, significantly limiting our understanding of the genesis and evolution of the area.
The newly created SciKap group focuses on unraveling the different stages and processes of mineralisation from various settings across regional, national and even international scopes. SciKap works as a starting point for young researchers to polish their abilities and have a first glance into academia. It's a place where their ideas can be shared and nourished, while also receiving the opportunity to experience and work collaboratively on the topic areas of their colleagues.
---
Has this post sparked your interest? Find out more on the tectono-magmatic evolution of the Colombian and Mexican ore deposits by reading these fascinating papers:
Cediel, F., R. P. Shaw, & C. Cáceres. (2003). Tectonic assembly of the Northern Andean Block, in C. Bartolini, R. T. Buffler, and J. Blickwede, eds., The Circum-Gulf of Mexico and the Caribbean: Hydrocarbon habitats, basin formation, and plate tectonics.
Lesage, G., Richards, J., Muehlenbachs, K. & Spell, T. (2013). Geochronology, geochemistry, and fluid characterization of the Late Miocene Buriticá gold deposit, Antioquia department, Colombia.
---
Would you like to be featured on our blog?
We're on the hunt for fellow VIPS enthusiasts to share their stories, whether you're a student, an early career researcher (ECR) or more experienced researcher – we want to hear from you!
Do you have a new paper to tell the world about? Or have you been involved in some exciting fieldwork recently? Get in touch at info@vipscommission.org to tell us what's going on in your field of VIPS.