Olivia Barbee – Whitman College, USA
---
Last September, my desk had a familiar view of the cornfields I grew up in – finishing my doctorate during the pandemic had landed me back in my rural Illinois hometown. Here I had a new focus, teaching my first mineralogy course remotely and leading an exciting pilot study that would help put 3D mineralogy into the toolkits of geoscientists. I was thrilled to be collaborating with Zeiss, new colleagues, and looking forward to the science and opportunities that would follow.
In mid-September, one of my colleagues working for the Instituto Volcanológico de Canarias (INVOLCAN) explained that heightened seismic activity was occurring beneath the island of La Palma. Over the course of several days, INVOLCAN and the Instituto Geográfico Nacional (IGN) detected a series of seismic swarms that were increasing in frequency, magnitude and shallowness, suggesting the movement of magma within the young Cumbre Vieja volcanic system.
Magma breached the surface on September 19th, just one week after the seismic swarm began (Figure 1).
As a real volcanic crisis unzipped that afternoon, it was our moment to respond. Petrologists of INVOLCAN arrived to collect the initial volcanic products (Figure 2) and began constructing a makeshift laboratory on site; this would eventually go on to house a range of equipment to prepare and send samples off the island for various types of analyses. At the same time, international help and support were being offered, accepted, and coordinated. How fast could we characterize the products and make some assessment of sources, processes and timeframes?
By early October, the petrology response team had produced the first compositional and mineralogical data. This was provided to PEVOLCA, the Canary Islands Volcanic Emergency Plan management team, to assist in their monitoring and hazard mitigation efforts. On October 13th, we released that data in a preprint which is now published [1].
During the first seven weeks of the eruption, I contributed to the response from my desk (Figure 3), watching the volcano evolve from afar as harvest in Illinois began and came to completion. A six hour time difference inadvertently put my body clock on Canarian Time, as it was vital to be able to communicate with those in Europe during their morning hours, yet still allowing me to teach my classes during my afternoons.
As November arrived, the petrology team on-site needed more volunteers who could help continue their work on the ground. They were building a library of rocks from daily collections across their network of tephra stations, as well as from both stalled and active lava flows when they became safely accessible. However, sustaining both active sampling and sample preparation back at base was becoming more of a logistical challenge as the eruption carried on. Constantly staying "on call" to respond to changes and opportunities had resulted in rising stress and fatigue, with no end in sight.
On the evening of November 7th, I arrived in La Palma to join INVOLCAN's team on the ground. Driving up and over the Cumbre Nueva escarpment that night offered me a first glimpse of the volcano. The relentless beast I viewed on-screen from September now appeared within reach beneath a glowing ceiling of red clouds reflecting the incandescence of the flow field. A very different field, it was. Fire fountains and occasional strombolian bursts on the menu, I watched magma erupt for the first time. I could have never imagined the reality of the eruption despite its closeness at my desk. The next morning's daylight offered me the total reality, the destruction, the mixed emotions.
My second day on La Palma is particularly memorable (Figure 4). I made the first of many drives to collect tephra at stations southwest of the vent complex. We were escorting drone pilots to the lava delta near La Bombilla, and by chance, arrived to find another lava flow had reached the sea cliffs (Figure 5). Knowing the remaining beach we stood on may be overtaken by evening, we prioritized sampling the lava delta emplaced weeks earlier and safely grabbed the occasional incandescent block that fell and bounced far from the cliff.
Following this rapid introduction to a new kind of adrenaline, my weeks were spent alternating between sampling and lab work on-site, often with student volunteers. I woke up each day in a soccer field dormitory filled with scientists looking at the eruption from various perspectives; earthquakes often rattled our bunk beds through the night. Breakfast and planning were often interrupted as the day's events unfolded, from continual logistical re-planning, to press interviews (Figure 6), to jumping in the van after word of a new breakout flow. Most days were highly unpredictable. Teaching classes two evenings a week remained the only consistency.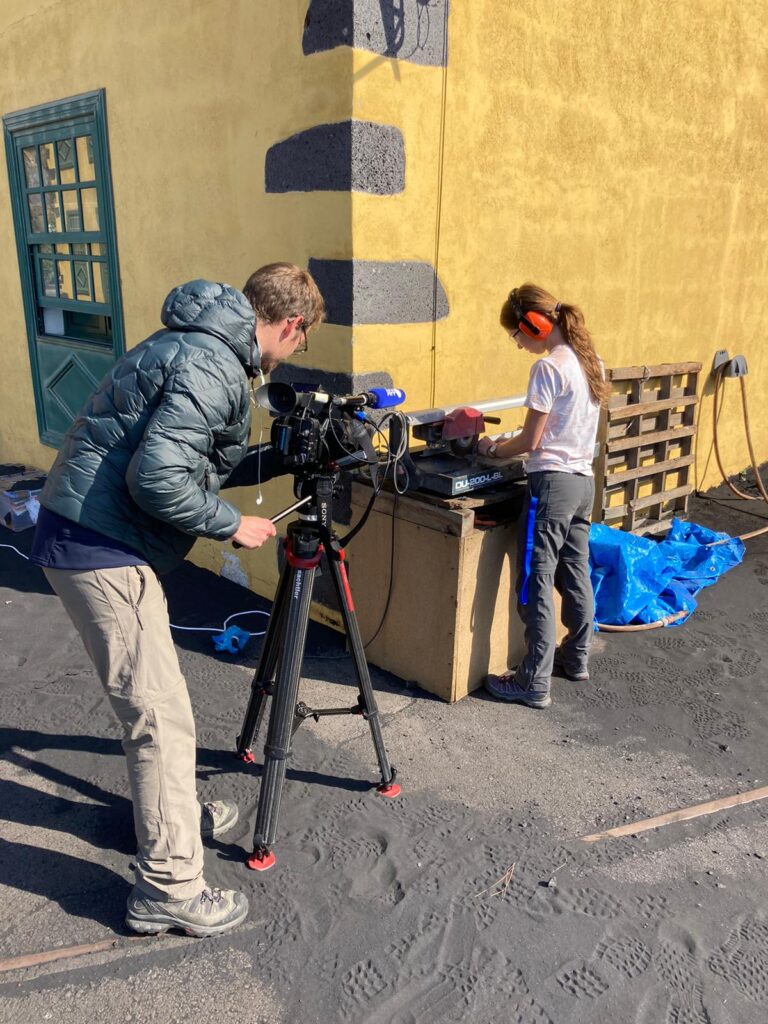 During the last five weeks of the eruption (and into February), the makeshift lab became a home away from home (Figure 7). Cataloging rocks, tephra and sampling well water were daily tasks. I fixed rocks inside 3D prints with resin and maintained an unruly wire saw to make serial sections for multiple collaborators. I bagged samples for collaborating scientists to take directly off the island. I occasionally camped on the floor and often showered in the stall that housed the coring drill I assembled.
Chances to spear lava were always thrilling but physically exhausting breaks (Figure 8). Frequent entrances to the exclusion zone required us to keep hold of our passports and QR codes like euros inside our pockets, occasionally rejected if gas levels were too high. Memorable nights were those trying to make an exit by curfew: we once struggled to collect a tephra station while caught between vortices under a red, apocalyptic sky; and the night we hiked across Montaña La Laguna, perched above a glowing red sea, looking across the flow field at incandescent rivers descending from the vents, all blurred beneath the thick haze of heat.
I watched the eruption come to its end on December 13th. From the petrology lab, we first caught a glimpse of what would be the volcano's final gasp. Beneath a bright moon, we saw a large, vertical plume lit by the sunset. The size of it seemed unusual given the wane in explosive activity a day or two prior, but from our position, we couldn't yet see just how violent the explosions were at the vent (Figure 9).
The 85 day eruption brought together hundreds of scientists from all over the world, many of whom I have been incredibly fortunate to meet and continue working with. The La Palma petrology team demonstrated the importance of petrological monitoring during a volcanic crisis and is now able to communicate their experienced challenges to improve rapid responses to future eruptions. Because of the major effort put forth by INVOLCAN, collaborating scientists, organizations and the locals who volunteered their help, a high-resolution time series of volcanic products can be used to understand the magmatic plumbing system and how its evolution may have linked to changes in vent activity, gas chemistry, geodetic signals and seismicity.
Thanks goes to INVOLCAN, Katy Chamberlain, Jane Scarrow and James Hickey for their support while in La Palma. Special thanks and congratulations to Matt Pankhurst (INVOLCAN) for his phenomenal leadership in coordinating a petrological response during a volcanic eruption.
---
References
Pankhurst, M.J., Scarrow, J.H., Barbee, O.A., Hickey, J., Coldwell, B.C., Rollinson, G.K., Rodríguez-Losada, J.A., Martín Lorenzo, A., Rodríguez, F., Hernández, W., Calvo Fernández, D., Hernández, P.A. and Pérez, N.M. (2022) Rapid response petrology for the opening eruptive phase of the 2021 Cumbre Vieja eruption, La Palma, Canary Islands. Volcanica, 5(1), 1–10. https://doi.org/10.30909/vol.05.01.0110
---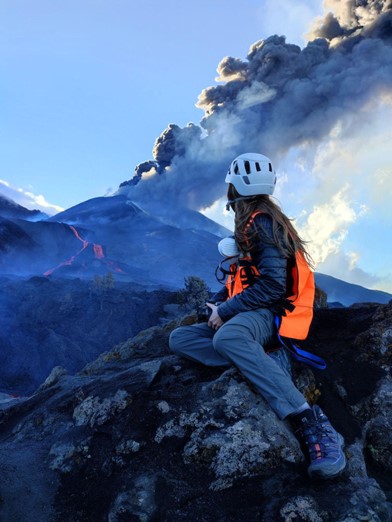 Olivia is a volcano and minerals scientist currently residing in the United States. She completed her PhD at Michigan Tech in 2021 and has since worked as a research petrologist and mineralogy instructor. From 2022–2023, she will join Whitman College (Washington state) as a Visiting Assistant Professor.
Recently, Olivia spent 14 weeks at the site of the 2021 Cumbre Vieja eruption on La Palma (Canary Islands, Spain). She worked as part of INVOLCAN's rapid petrologic response team and is collaborating with a group of researchers, led by PI Katy Chamberlain, who are supported by a UKRI NERC Urgency Grant (NE/W007673/1) to study the eruption.
Her research interests lie in the multi-scale, multi-dimensional links between textural and chemical records of minerals and magmas. She's worked primarily on large silicic magma systems, focusing on eruptions from Toba caldera in Sumatra, Indonesia throughout her undergraduate and graduate studies. You can read about some of her findings in this publication.
Olivia collaborates with Carl Zeiss Microscopy and Xnovo Technology to develop geoscience applications of advanced, 3D X-ray imaging modalities. She recently received the second Geological Society of America – ZEISS Research Grant to conduct innovative microscopy research in geoscience.
You can get in contact with Olivia via email or connect with her on Twitter @DrOliviaBarbee.
---
Would you like to be featured on our blog?
We are on the hunt for fellow VIPS enthusiasts to share their stories, whether you're a student, an early career researcher (ECR) or more experienced researcher – we want to hear from you!
Do you have a new paper to tell the world about? Or have you been involved in some exciting fieldwork recently? Get in touch at info@vipscommission.org to tell us what's going on in your field of VIPS.